Welcome To Hawaiian Honeymoons!
Specializing in travel to Hawaii for over 25 years
A honeymoon is a special occasion, one that couples will remember for years to come. Hawaiian Honeymoons is dedicated to providing a memorable honeymoon experience, and will create a honeymoon tailor made for you!

Anyone can book airfare and a hotel, but not everyone will give you an honest evaluation of the property while paying close attention to your budget. You can trust the staff at Hawaiian Honeymoons to offer honest and friendly advice. We have been traveling to Hawaii for over 25 years so we have extensive knowledge of Hawaii and her islands.

Because we sell a wide variety of packages, we can provide you with some alternatives. We have single or multi-island packages, which are available with or without airfare. And if you already have accommodations, we offer airfare and car rental packages from select cities. Whether it's a cottage on the beach, an intimate hotel, moderately priced condominium, or a luxury resort, we have a honeymoon for you!


Discover why so many couples trust Hawaiian Honeymoons, we're different...Try us, you'll see!
Not sure where to begin? Here are some suggestions...
Visit the island pages for an overview of each island, photo galleries, activities, and map
Explore our packages by clicking the "prices!" button
Select the quote button to request a price quote
Visit the clients page to read what our many satisfied customers are saying
Choose the weddings button to see how Hawaiian Honeymoons can help you with your destination wedding
Email us with questions at info@hawaiianhoneymoons.com
Or just give us a call, it's toll free 1-877-474-2052
Why Choose Us?
Expert in the destination of Hawaii



Over 25 years in the travel industry



Competitive prices



Personalized customer service



Price matching policies



Flexible deposit and payment terms



Honeymoons to suit nearly all budgets



Single or multi-island packages



Wide range of accommodations



Honeymoon registry available



Honest, friendly advice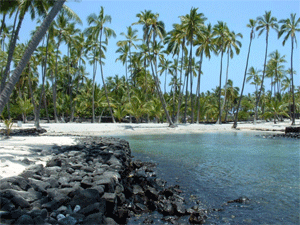 Hawaii, a perfect honeymoon choice!
Just a few hours from the west coast, lies a beautiful jewel in the Pacific. Warm water, tropical breezes, breathtaking beaches, lush foliage, waterfalls, and wonderful snorkeling, all await you in Hawaii!

There are no language barriers to overcome,
no currency exchange rates to negotiate,
and no passports required for US citizens.
Hawaii is filled with the familiar comforts of home
and yet it's a completely different world!
It's easy to have fun in Hawaii!
Hawaii seems to have something for everyone- hiking, whale watching, snorkeling, surfing, horseback riding, kayaking, parasailing, luaus, biking, windsurfing, fishing, golf, ziplines, boogie boarding, shopping and nightlife.

And if you simply want to relax,
choose one of Hawaii's gorgeous beaches,
stake your claim and enjoy paradise!



Photos courtesy of HTA Tor Johnson and Peter Garzke