Hawaii
The Big Island
The island of Hawaii, referred to simply as "The Big Island", is the youngest and largest in the chain of Hawaiian Islands. You'll discover diversity in abundance on The Big Island. From the dramatic rim of the caldera at Kilauea, to the multi-hued flowers and spectacular waterfalls, the size and scope of this island will amaze you.
Exploration is the name of the game here. Discover the Hawaii of old while visiting The Place Of Refuge, trek through the high pasture lands of Waimea, snorkel Kealakekua Bay, or stand on the rim of the Halema'uma'u fire pit at Kilauea. The Big Island will satisfy your urge for sunshine and adventure, and you will leave vowing to return!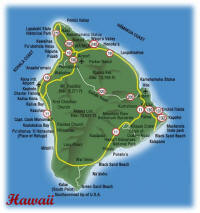 Click to view large map
Where to stay
Accommodation choices are plentiful and range from inexpensive hotels and condominiums to luxurious resorts. The Big Island has a tendency to offer many choices at either end of the pricing spectrum. However, it is limited in its medium priced accommodation choices.
Kona Coast- the most populated area of The Big Island, including the areas of Kailua-Kona and Keauhou, filled primarily with condominiums and hotels.



Keahole- located just north of the airport offering very limited accommodation choices.



Kohala Coast- revered for it's seemingly perpetual sunshine and beautiful resorts, the Kohala Coast is a the perfect location for those seeking a luxury resort environment.



Hilo- it's location is considered the "wet" side of the island, a slow paced "old style Hawaii" environment offering very limited accommodation choices.



Volcanoes- believe it or not, it is possible to stay in Volcanoes National Park, perched on the edge of Kilauea crater at the Volcano House Hotel.
Activities

The Big Island has a variety of activities to keep you entertained, here are a few favorites.
Atlantis Submarine Tours- You'll descend 100 feet into another version of paradise aboard a 48 passenger submarine

Sunshine Helicopter Tour- Experience the grandeur of The Big Island from the air! There are several tours to choose from, including a tour high above the active volcano

Sunrise Lava Tour- Hawaii's Best Lava Tour takes you via boat to see red hot lava in the dark. As the early morning golden sunlight rays warm the lava covered coastline, the ultimate lava viewing unfolds right before your eyes!

Zipline Tour- Ziplining in the North Kohala mountains with Big Island Eco Adventures is an experience you won't soon forget.The Zipline course is only part of your tour. The drive up the mountain will blow your mind!

Hawaii Forest And Trail- Explore the hidden treasures of The Big Island by trying one of the many unique tours offered by Hawaii Forest And Trail

Kealakekua Bay Snorkel Excursion- experience pristine Kealakekua Bay atop an award winning snorkel boat. Snorkel gear, food and beverages are provided

Grand Circle Island Tour- the perfect tour for those who prefer to leave the driving to someone else! You'll view all the most popular sites including Volcanoes National Park, Black sand beaches, Rainbow Falls, Liuokalani Park, Macadamia Nut Factory, and the Parker Ranch

Luau- do you want a truly Hawaiian experience? Try a Luau! Several choices are available including the Island Breeze Luaus at The King Kamehameha - The Sheraton Keauhou - The Fairmont Orchid, The Waikoloa Beach Marriott Luau and the Royal Kona Resort Luau
Do You Want More Activities? Here is a link to all available Hawaiian Honeymoons activities on The Big Island
Photos Courtesy of HTA Tor Johnson and HTJ