Lanai
"Hawaii's Most Secluded Island"
Don't be fooled by the size of Lanai, all 141 square miles of this tiny island are packed with sunny adventures and surprises. Here you'll find the dolphins who often swim into the marine sanctuary at Hulopo'e Bay, Hawaii's best preserved petroglyphs, fascinating sea caves, and isolated coves.
You may choose to explore the coastline by kayak, ride the mountain bike trails, dive the Lanai Cathedrals, or drive to Lanai's highest point on the Munro Trail, where on a good day, you can see four of the major Hawaiian Islands. Or simply take a picnic lunch to one of Lanai's deserted cove and enjoy your own exclusive plot in paradise. So take a right just off the beaten path, and explore Lanai, a fantastic little island!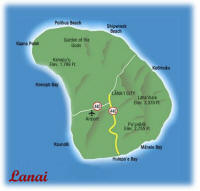 Click to view large map
Where to stay
Accommodation choices are extremely limited on Lanai, only one hotel and two resorts exist on the entire island, they are a bit expensive, but worth every penny!
Manele Bay, home of the Manele Bay Hotel, Lanai's only beachside resort, and famous for it's frequent dolphin visitations.



Koele, high atop Lanai, you will find a different and refreshing perspective of Hawaii at The Lodge at Koele, where welcoming Aloha smiles greet you, and surprises are hidden behind every door.



Lanai City, Lanai's 2,800 full time residents call Lanai City home, you'll find a handful of old-time general stores and eateries centered around Dole Square, and one quaint hotel.
Activities

This island is best suited for visitors who are accustomed to entertaining themselves. Limited organized activities exist, here are a few suggestions
Golf- two 18 hole golf courses await you, The Experience At Koele and The Challenge At Manele, designed by Greg Norman and Jack Nicklaus

Lanai Pine Sporting Clays- a rustic 14 station sporting clays course that meanders through a pine-wooded valley overlooking the island of Molokai

Kayak- enjoy an up close and personal view of Lanai's marine life, secluded coves, sea caves and shoreline

Four Wheel Drive Tour- only 30 miles of Lanai's roads are paved, the rest are accessible only by four wheel drive vehicles, allowing you to see beautiful sights normally hidden from view

Mountain Bike- Lanai has a number of challenging trails, sure to please even the most advanced mountain biking enthusiast
Photos Courtesy of HTA Tor Johnson and HTJ