Kauai
"The Garden Isle"
The dramatic pinnacles of the Napali coast, the haunting beauty of Waimea Canyon, and the twin cascades of Wailua Falls are just a few of the wonders awaiting you here. Kauai is filled with seemingly endless beauty. Lush tropical vegetation coats the island, waterfalls cascade over unforgettable cliffs, and gorgeous beaches dot the entire island. This is the island most people picture when they imagine what Hawaii is like.
You don't just visit Kauai, you immerse yourself in it. Take a zodiac boat up the Napali coast, or hike one of the many trails in The Waimea Canyon. Kayak up the Wailua river, then kick back and enjoy the sun on one of the island's beautiful beaches. A visit to Kauai will leave you wanting more!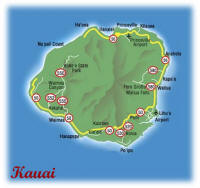 Click to view large map
Where to stay
There is something for everyone on Kauai. Accommodation choices include cottages on the beach, small intimate hotels, condominiums, and unbelievably beautiful luxury resorts.
Kapaa and Wailua, located north of Lihue airport, both are very popular with visitors due to a wide selection of inexpensive accommodations as well a multitude of restaurants and shops.



Princeville, located on the north shore, is revered for it's scenic beauty, upscale homes and golfing options. The north shore is considered the "wet" side of Kauai.



Hanalei, also located on the north shore, offers a very laid back artistic atmosphere with it's art glass shops, healthy restaurants, and surf shops.



Poipu, located on the southern tip of the island, considered the "dry" side, and offering a good selection of condominiums, beautiful resorts, restaurants and shops.



Waimea, located on the Southwestern shore near the Waimea Canyon , is a laid back "paniolo" town (Hawaiian cowboy) and provides a peek into a simpler Hawaii of old.
Activities

Kauai has a variety of activities to keep you entertained, here are a few favorites
Waimea Canyon Tour- visit the famed "Grand Canyon Of The Pacific", Kalalua lookout, and the lush vegetation of the Kohee area

Napali Coast Snorkel & Sightseeing Tour- view towering sea cliffs, waterfalls, sea caves, pristine beaches, and remote wilderness coastline. Spinner dolphins often swim alongside the tour boats as they make their way along the coastline

Island Helicopter Tour- discover all the hidden places of Kauai that can only be seen from the air! Most tours include the Waimea Canyon, lush valleys, waterfalls, and the Napali Coast

Wailua River Kayak Tour- kayak approximately 2 miles up the Wailua river, then hike 1 mile to Secret Falls where you'll enjoy a dip in the refreshing water

Luau- a uniquely Hawaiian experience. There are several good choices, Havaiki Nui at the Grand Hyatt, Luau Kalamaku, and Surf To Sunset at the Sheraton Kauai

Kipu Ranch Adventures- 3,000 acres filled with adventurous fun, including ATV and four wheel drive tours, explore the mountains, waterfalls and Hollywood movie locations
Do You Want More Activities? Here is a link to all available Hawaiian Honeymoons activities on Kauai
Photos Courtesy of HTA Tor Johnson and HTJ