Molokai
"Hawaiian By Nature"
The legendary birthplace of Hula, "the heartbeat of Hawaii", Molokai is a sanctuary for the spirit, a pristine and wild place. Fortunately, change has pretty much ignored Molokai. You will find no fast food chains, no elevators, traffic signals, or crowds. You will only find a sense of peace and serenity.
Seclusion is paramount on Molokai. Explore the island atop a rented bicycle, bask in the sun on a white sand beach, take a mule train ride down the switch back trail to Kalaupapa, or take a flight seeing tour, skimming the sea cliffs and waterfalls. At night, uncountable stars appear in the sky, and from the Western shore you can see the shimmering lights of Waikiki, only 40 miles across the channel, yet worlds from your little slice of paradise!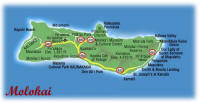 Click to view large map
Where to stay
Accommodation choices are extremely limited on Molokai, the recent closure of The Molokai Ranch and lodge has left only two remaining areas providing a smattering of condominiums, and a hotel.
Kaunakakai, the main town on Molokai (don't blink or you'll miss it) located at the mid-way point of the southern shore, offering a limited choice of hotel or condominium style accommodations.



Kaluakoi- on the sunny West end of the island, you will find condominiums and an endless stretch of white sand beach.
Activities

This island is best suited for visitors who are content relaxing and enjoying nature. Limited organized activities exist, here are a few suggestions
Kalaupapa Historical Park- the site of the Leper Colony in the mid-1800's, a place of stunning beauty, blessed by nature's grandeur, and cursed by humanity's ignorance and fear

Ocean Kayaking- kayak along the highest sea cliffs in the world, or along the longest and most continuous fringing reef in American waters

Whale Watching- enjoy the majesty of these fascinating ocean mammals from December to March

Deep Sea Fishing- experience the year round challenge of hooking up a 30 pound Mahi-Mahi, Ono or Ahi

Horseback Adventures- join a guided horseback trek through Pu'u O Hoku, a 14,000 working cattle ranch surrounded by lush pasture, tropical rain forest, and the Pacific Ocean

Biking And Hiking- explore Molokai's rain forest and beaches on a mountain bike

Photos Courtesy of HTA Tor Johnson and HTJ